Walter Russell Books at Great Prices
At Dowsers.com, we carry almost all Russell books currently in print. Only our most popular Russell books are listed on this page.  
Click Here to learn a little about Walter Russell.
Very Slow Overseas Mail Due to Covid 19

Most overseas mail is going by boat at present, and it could take months for delivery.  You can order now and we'll hold shipment until things clear up.  We'll let you know.  Other methods of shipping, such FedEx, UPS, & DHL are far too expensive for books.

Also shipping rates have changed, especially for International Orders.  We may have to adjust shipping rates after you order.  We'll let you know by email or phone.

 See our new low prices for Russell Book Sets, from the Intro Set to the Complete Russell Package.   Get every Russell book available, including the Home Study Course & three CDs, for one low price. 
See More Russell Books Here [/soc_one_third]
[/soc_full_section]
---

A Worthy Messenger:
The Life Work of Walter Russell
The First Edition of Walter Russell's definitive biography, written by a man who knew him.  
by Charles Hardy
 $30 
Learn more at by clicking here.
This incredible biography of Walter Russell by Glenn Clark is full of Universal Truth. It is the book that introduces most people to the Russell work.  You'll love it!  And you'll get more out of it every time you read it.  Quantity discounts available at checkout, because people love to give this book away!
Hardback    $10

Books by Walter Russell and His Wife, Lao
The Secret of Working Knowingly With God -Walter Russell
This is from a lecture Russell gave shortly after The Man Who Tapped… was released.  I highly recommend it as a companion booklet to The Man Who Tapped the Secrets of the Universe.
$7 

Genius Inherent In Everyone by Walter Russell
"Mediocrity is self-inflicted; genius is self-bestowed. The choice is yours." Walter Russell explains the process of unfolding one's inherent genius through application of universal principles.
$7 

A Salutation to the Day and to the Night
$4
Add to Cart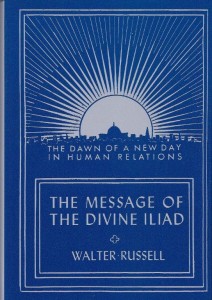 Part 1 of the beautiful Russell philosophy in which Russell reveals to mankind the message given to him by the Universal One.
$25 
Part 2 of the Russell philosophy.  Although scientifically inclined people tend to want to go straight to The Secret of Light and the other Russell science books, all of the science is based on The Divine Iliad.
$25 
Get both volumes of the Divine Iliad and save 10%.
$45 

Atomic Suicide by Walter & Lao Russell Russell evolves his philosophy into and through his spiritual science. The understandings Russell expresses in this book are inspiring and profound. A classic. 304 pages.$25

A collection of Russell's beautiful and incredible scientific art and illustrations, all in their original color.  This is the original sacred geometry.  Walter Russell had the ability to express his understandings of the science of Creation in his art as well as in words.
$25 

This book has been out of print for years and is finally available in a beautiful new edition.  It is a beautiful new hardback edition, but does not come with the yellow paper jacket.
$25 

Walter Russell's wife was quite an illumined being herself and her book is evidence of it.  The title speaks for itself.  Lao's teachings fit in beautifully with Dr. Russell's teachings
$20 

This wonderful biography of Lao Russell will give you her life story from childhood through her years as Walter Russell's wife and as "the mother" of his published works.  My wife, Jill, and I knew Lao personally, but this book gave us much more insight into the amazing and beautiful woman.  We highly suggest it.
$25


Think: The First Principle of Business Ethics by Walter Russell 
This is a collection of lectures Russell gave for IBM in the 1930s. Powerful and thought provoking.
$20


Russell evolves his philosophy into and through his spiritual science. The understandings Russell expresses in this book are inspiring and profound. A classic.
$25    
An Open Letter to the world of science. This scientific treatise was sent out in 1953 to the world's leading scientists, as a follow-up to The Universal One. Russell corrected what he felt were errors in The Universal One and added his every-evolving understandings of the science of Creation."The Russell Cosmogony with its new concepts of light, matter, energy, electricity and magnetism is a simple yet complete, consistent and workable cosmogony which will enable future scientists to visualize the universe as a unified whole, and will open the door to the New Age of Transmutation." -Walter Russell
$30

The definitive Walter Russell book, a beautiful reprint of the scientific treatise that Russell sent to over 500 of the nation's leading scientists and physicists in 1926. An amazing book!  This book once sold for $250!  Choose appropriate shipping option at checkout.  If you buy more than one copy, we'll recalculate shipping costs and refund the difference if appropriate.
$65
The Universal Law Home Study Course
by Walter & Lao Russell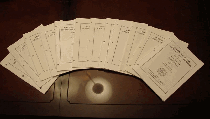 This is the Third Edition of the Russell Universal Law Home Study Course, which is the last edition worked on only by the Russells.  The Russells designed it for you to study one unit per month for a year, but you can get it all at once.  Learn more by clicking the link above.
I highly recommend this Course if you want to learn more about the Russell teachings.  Give a detailed table of contents and description of the Course by clicking on the link above.
Retail price for the Course is $200 plus shipping!
We pay the shipping within the US. Shipping options will be listed for International shipping.
We are the only place in the world that the Third Edition of the Home Study Course is available.
Table of Contents  
$200   
is now available on CD.

Use our Secure Shopping Cart system to order any of these books online, or feel free to call us toll-free from within the US  and Canada at 1-877-DOWSING (1-877-369-7464).
From outside the US & Canada, call or fax us at 1-706-733-0204.
Photo of Walter Russell on top of the page courtesy of