Abe's Story: A Holocaust Memoir (my father's amazing story) by Abram & Joseph Korn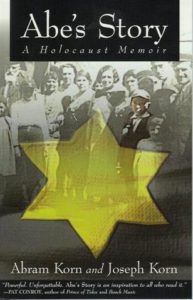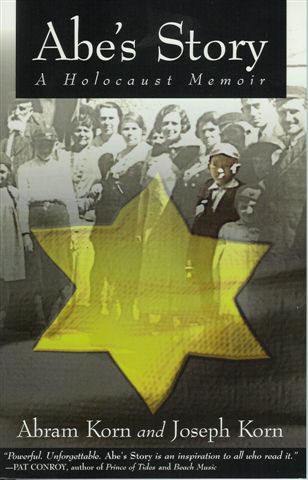 The most important and meaningful work I had ever done until that point in my life was the completion of my father's autobiography, Abe's Story: A Holocaust Memoir, and getting it published in 1995.  I was recentlyInterviewed about Dad's story just before Thanksgiving 2019 by John Krotec for his radio show, "Straight Outta Combat." He usually interviews members of the US Military, but when he read Abe's Story: A Holocaust Memoir, he knew he had to have me on his radio show as possible.  It turned out to be what was probably the best interview of me ever done for Dad's story or for my work as as dowser, and I've done a LOT of interviews.  Listen to the podcast now and you'll see what I mean. Just click on the green arrow below the book cover image.
Abe's Story
$15 plus shipping.

The Second Edition softback is available.
Email us for quantity discounts, such as classroom sets.
My father, Abram Korn, survived World War II in two Nazi ghettos and at least eight concentration camps.  Dad lost his entire family during the Holocaust, including his parents and his two little sisters.  There are 35 extended family members on the cover of his book, and Dad was the only one to survive. He came through it all with dignity.  Dad was one of the kindest and gentlest human beings I have ever known.  My father is my hero.
Dad's story begins when his hometown of Lipno, Poland, is attacked on the first day of Word War II, Sept. 1, 1939. He and his family spend a year imprisoned in a ghetto until he escapes, never to see his family again. Over the next five years, he is imprisoned in another ghetto and in eight different concentration camps, until he is liberated from Buchenwald Concentration Camp in 1945. He then spends four years rebuilding his life in Germany, where he met my mother-to-be, Ellie Mueller.  Dad & Mom married and moved to America in 1949, where they raised our family and fully realized the American Dream.
Dad's story is about life, not death.  It's about hope, not despair. It touches the hearts of all who read it. It is perfect for use in middle and high schools, though it certainly isn't a children's book.
If you'd like to learn more about my father's incredible story, please visit the Abe's Story Web pages in the Cybrary of the Holocaust, the best Holocaust education Web site in the Web.

Powerful. Unforgettable. An inspiration to all who read it.
–Pat Conroy, bestselling
author of Beach Music, Prince of
Tides, and The Great Santini

Important testimony…
–Elie Wiesel, Holocaust
survivor, author, and Nobel
Peace Prize laureate

Significant educational quantity discounts are available!
Email us for details.