God Will Work With You but not For You & A New Concept of the Universe
Click here to return to the Walter Russell Books page.  
Scroll down for A New Concept of the Universe.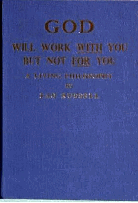 Lao Russell God Will Work With You But Not For You
Lao was Walter Russell's wife.  Dr. Russell was told in Divine Guidance in 1921 that he should not release his future books until 1946.  He was told that he then would have a mate to serve as the "mother of his work."
Lao met Walter just after the release of The Man Who Tapped the Secrets in 1946. The married shortly thereafter.  Jill and I had the pleasure of knowing Lao.  She was a lovely lady who also was an illumined being.
God Will Work With You But Not For You dynamically answers the age-old questions "Who am I? What am I? Why am I here?" Human Beings are the greatest mystery of the "unknown."
We have conquered the seas, the skies, the elements and the very forces which move the universe. We, the great discoverers and inventors of many things, have not as yet fully discovered ourselves.
In answer to the question of "man the unknown," Lao Russell writes:
"Let us transform the world by renewing of the world-Mind." That transformation can take place only by our acquiring knowledge of our inseparable and eternal moment to moment unity with a comprehensible Creator, and of our unity with all people and Nature."
This transforming knowledge is the theme of the Living Philosophy vitally presented in God Will Work With You But Not For You.
"The whole purpose of this book is to point the way to all knowledge and power for you. To attain it you have to acquire the power to think inwardly instead of merely to sense outwardly."
— Lao Russell
5 ½" x 8 ¾", Hard Cover
Price Each: $20

Walter Russell's A New Concept of the Universe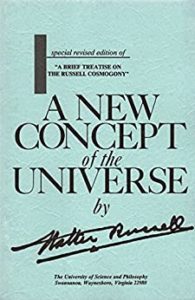 "The Russell Cosmogony with its new concepts of light, matter, energy, electricity and magnetism is a simple yet complete, consistent and workable cosmogony which will enable future scientis
ts to visualize the universe as a unified whole, and will open the door to the New Age of Transmutation."
–Walter Russell,
"An Open Letter to the World of Science."
Contents:
A New Concept of the Universe;
The Undivided Light;
The Divided Light;
This Electric Universe of Simulated Idea;
Coulomb Law;
The Electric Universe of Simulated Energy;
The Duality of Electric Effect;
Thought-Wave Universe;
Polarity Periodicity;
Magnetic Lines of Force;
Law of Conservation of Energy;
Thermodynamic Misconception;
Inadequacy of Newton's Three Laws;
Fallacy of Newton's Mathematics;
Two Unknown Facts of Nature;
Inadequacy of Kepler's First Law;
The Quantum Theory;
Singly Charged Particles;
Science Must Revolutionize Concept of Matter;
The New Concept of Matter;
Mystery of Magnetic Poles;
Illusion of Three Dimensions;
The Earth is Not a Magnet;
Cathodes and Anodes;
No Separate Particles;
Curvature is Also Polarized;
Conditions of Matter;
Vibrating Matter;
Growth & Decay;
Octave Wave Cycle;
Gyroscope Wheel;
Expanding Systems;
Oblating Spheres;
Unbalanced Systems Wobble;
Gravitation & Radiation;
Nine-Octave Periodic Table of the Elements;
Industry's Creating Processes;
Secret of Man's Power;
New Power for Science;
Age of Transmutation;
What of Tomorrow?
173 pages   6″ x 9″
Price Each: $20
Call us toll-free from the US or Canada to order Russell books at 1-877-DOWSING (369-7464) or email us by clicking here.
Call us from anywhere at 1-706-733-0204.
We accept Visa, MasterCard, Discover & PayPal.
Click here to return to the summary page of the Russell books.
Photo of Walter Russell on top of the page courtesy of