Remembered for Love: Lao Russell of Swannanoa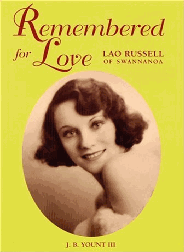 Remembered for Love by J.B. Yount III
$25

Remembered for Love, the biography of Lao Russell, was written by our dear friend, J.B. Yount.
J.B. was inspired to write Lao's story when he attended a conference that Jill and I also attended in 1989. The World Balance Conference was sponsored by the University of Science and Philosophy, the organization that was founded by Lao and Walter Russell.
J.B. was to give a talk about Lao and he was embarrassed that he knew very little about her before her life with Walter at Swannanoa, and he knew there was much to know.
So he dedicated himself to learning as much as he could about his dear friend, Lao Russell. Fifteen years later, her definitive biography was finally published. Remembered for Love also serves as a thorough documentation of just about every notable contact that Walter & Lao ever had, including Jill and me!
Lao Russell was an entrepreneur, philosopher, teacher, and writer whose work touched the lives of thousands of individuals worldwide. Her rise to prominence began in England, where she was born Daisy Cook.
A child of modest circumstances, she was brilliant and gifted, and built a fortune by direct marketing cosmetics and health products. She embraced a glamorous lifestyle in the company of movie stars and millionaires.
Emigrating to America, she increasingly sought to fathom her spiritual side, but this lifelong quest was not completed until she met Walter Russell, a notable physicist, sculptor, philosopher, and the subject of Glenn Clark's book, The Man Who Tapped the Secrets of the Universe.
Together, the Russells devoted themselves to spreading universal truths of love and light to students around the globe. The couple founded The University of Science and Philosophy at Swannanoa, an Italianate palace atop the Blue Ridge overlooking the Shenandoah Valley of Virginia.
Although Lao passed away in 1988, twenty-five years after Walter's death, the University continues to attract students through its publications and home-study courses.
Author J. B. Yount spent some fifteen years compiling information, interviewing friends, family, and students, and finally writing this remarkably intimate, comprehensive, and compelling biography.
Highlights:
A definitive biography, with excerpts from Lao Russell's writings, including God Will Work

With

You But Not

For

You and Love: A Scientific and Living Philosophy of Love and Sex.
Introduction by stage, movie, and television star Eddie Albert.
Includes famous students of Lao and Walter Russell, among them Gloria Swanson, Melford Okilo, Barry Goldwater, Cary Grant, Joan Crawford, Shirley MacLaine, Eddie Albert, Tallulah Bankhead, Paul Fisher, and John Denver.
Enhanced by 150 photographs, many of them never before published.
Included a section of concise line biographies of notable personalities in the Russells' lives.
Of the many internationally known individuals who studied and befriended the Russells, Eddie Albert, the beloved and well respected actor and humanitarian, was among those in the forefront.
Mr. Albert and his remarkable wife, Margo, herself an acclaimed actress, came to know Lao Russell after reading her first book, God Will Work With You But Not For You,
In the ensuing years, especially after his wife's untimely death in 1985, Mr. Albert found comfort and inspiration in the Russell philosophy and frequently conversed with Lao, who often spoke and wrote of him with admiration, citing him as one who had generously helped her extend the University's message of science and love. His words introduce Remembered For Love.
Format: Hardcover. 512 pages
6″ x 9″ Retail $35
Special Price $25

Photo of Walter Russell on top of the page courtesy of