Walter Russell Lectures and Special Books
All Books on this Page are 10% off! While Supplies Last!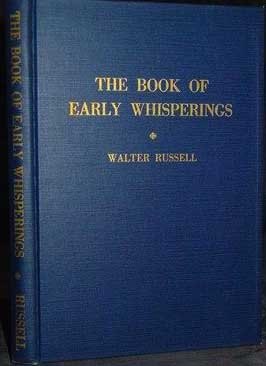 Written during Walter Russell's early years when he loved to spend time alone sketching his favorite scenes or in contemplation of the natural order of life. Russell felt this poetry to be the forerunner to The Divine Iliad.
Was $15, Now $13.50
---
The Scientific Answer to Human Relations
Hardback By Lao & Walter Russell
"This book has but one dominant purpose, to give you the knowledge you need to live gloriously and abundantly as an individual unit of Creation and to live collectively, in peace and happiness, with all other human units of Creation.
---
Adapted from writings by Lao & Walter Russell on the their understandings of eternal life and reincarnation.
Includes excerpts on the subject from the writing of Walter and Lao Russell. "The greatest mystery which we have to face is the mystery of life and death. It is necessary that we fully comprehend what death means, for it has been stated in past ages that the last thing for man to conquer is death." An enlightening new angle of thought about the eternal nature of life.
33 pages 4 ½" x 6 ½"
Soon to be $5. Now $4.50
---
Your Day and Night is the inspiring and empowering morning and evening meditation from the The Message of the Divine Iliad in an attractive pocket-sized booklet.
22 pages
Price Each: $4.00
---
Russell's Lecture Series 1
Were $7 each, Now $6.30 each
Adapted from a talk Walter Russell gave in 1946.
"Anyone who desires money can have all he wants by obeying the Law." Walter Russell discusses the law of balanced interchange and its practical application.
Adapted from a talk Walter Russell gave in 1946.
"We are fully aware of the step-up transformer principle in relation to the multiplication of electric energy, but few of us are aware of the mental step-up transformer principle which makes leaders of men rather than followers." Walter Russell explains the process of multiplication of power for practical application in daily life.
31 pages 4 ½" x 6 ½
Price Each: $5.00
The Sculptor Searches for Mark Twain's Immortality is adapted from a talk Walter Russell gave after sculpting the Mark Twain bust and the 28-figure Mark Twain memorial. In explaining the experience that "Suddenly the spiritual essence of the physical man stood before me," Walter Russell defines the nature of immortal as opposed to transient creations.
21 pages 4 ½" x 6 ½"
Price Each: $5.00
Caring for Your Physical and Spiritual Health is adapted from a talk Walter Russell gave in 1951. Walter Russell did not teach religion or theology, but a "way of life."
"Masterful living can come only through greater comprehension of our relation to the universe, to man, and to the Creator. Lack of knowledge is the cause of the problems we make our lives and in our civilization. "To give new knowledge which will enable us to live more powerfully is my purpose." –Walter Russell
68 pages 4 ½" x 6 ½
Price Each: $5.00
The Quest of the Grail is from an unpublished manuscript left by Walter Russell. Russell uses the ancient story of the search for the grail to symbolize the modern search for practical wisdom and knowledge which will lead to a more enlightened life and the unfolding of one's own creative capacity and inherent genius.
67 pages 4 ½" x 6 ½
Price Each: $5.00
The Dawn of a New Day in Human Relations is an address given by Walter Russell at the Portsmouth, Virginia, Armed Forces Day Celebration, May 19, 1951. The theme of this inspiring address is why men wage war on each other and how to prevent it.
29 pages 4 ½" x 6 ½
Price Each: $5.00
Lecture Series 2
Were $7 each, Now $6.30
The Electric Nature of the Universe is from a talk given by Walter Russell to the Astrologers' Guild of America, in June, 1936. Walter Russell explores the journey of the soul in our electric thought-wave universe. "Life itself is mental, eternal and unchanging. The body expresses life in a journey which begins in a sensed-controlled mechanism and ends in a self-controlled one."
18 pages 6" x 9″
Price Each: $5.00
The Fifth Kingdom Man is adapted from a talk given by Walter Russell in 1946. As early as 1921, Walter Russell used the term "New Age" to describe what he foresaw as the "Dawn of the Cosmic Age," the age in which peace, harmony, love, beauty and creative action would prevail through the wisdom of the comically enlightened Fifth Kingdom Man. Walter Russell challenges everyone to be part of that world transformation to which he devoted his life.
26 pages 6" x 9″
Price Each: $6.00
The Immortality of Man is adapted from a talk given by Walter Russell in 1944. "What are you doing or saying right NOW? No matter what it is you are deciding to do no matter how insignificant or massive that decision will follow you all the rest of your life and affect it each day for better or worse." –Walter Russell, with illustrations from his personal life and philosophical wisdom, gives insight into the secrets of earning and bestowing immortality.
29 pages 6" x 9″
Price Each: $6.00