Remote Spiritual Space Clearing from the Inside Out
If you're interested in learning more about my remote sessions or want to schedule one, just click on the following link (in blue) to get access to a more detailed description of what we'll be doing together, as well as how I see the energies of life working in the world.  If you don't read this before you contact us to schedule a session, we'll ask you to read it before our session.
What is this special type of Spiritual Space Clearing that Joey practices?
Joey has developed a system to connect directly to you, your family, and the energies in your home. No matter where you live, he can assess and explore the subtle energies of your home remotely from his home through his Remote Spiritual Space Clearing Sessions.
He can detect your Human Energy Patterns around beds (as Bed Patterns), as well as other human-related energies, Earth energies, electromagnetic fields (EMFs), and more throughout your home.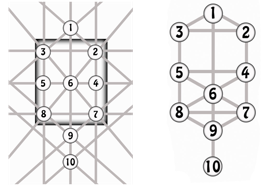 After his assessment, he will work with you to remove some energies, change other energies to be beneficial, and bring in new beneficial energies to support you and your family.
Call Jill to schedule an appointment at 1-706-733-0204. The process takes about an hour and includes a free follow-up.
Discounts for more clearings ordered at the same time.
Do you feel that you have energy problems in your home or office?
I can help you detect whether you have significant detrimental Earth energies and, together, we can make them beneficial with prayer and blessing. In fact, if you give us your physical address, I will do a pre-check and tell you if you have significant energy problems in your home that I can help with.  If not, I'll just bless your family and your home and there will be no charge.  If I do find significant to intense energy problems, you can schedule a Space Clearing Session if you life.  Changing the energies in our homes can help us change our lives.  We can even make electrical fields from appliances (EMFs) beneficial to you and your family! And we can do much more!
Many dowsers believe that detrimental Earth energies in our homes, called Geopathic Stress energy lines or zones, can cause illness and other problems in our lives. However, after doing thousands of space clearings of homes, businesses, and properties, I have come to understand that we affect the energies as much or more than they affect us.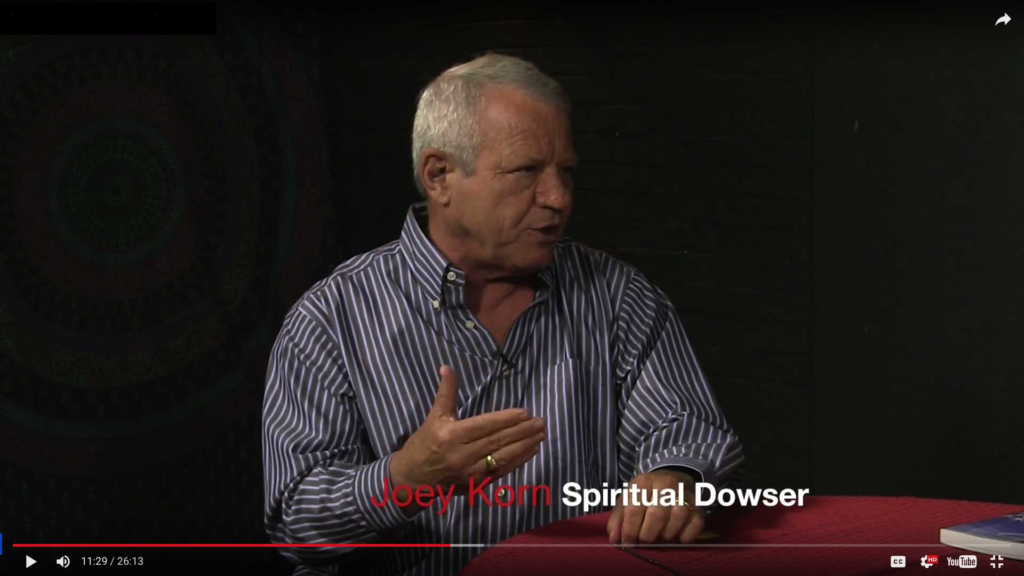 We actually cause the Earth energies in our homes and offices to be detrimental with our illnesses and with our negative thoughts, actions, and emotions, or more accurately, with our intense negative and inappropriate reactions to our stresses and strains of life.
I can help you assess and greatly improve the energies. Most of the energy problems in our homes are caused by our difficult relationships with others in our lives. I can help with that too.
Our Energetic Mirrors
The energies in our homes are our energetic mirrors, constantly reflecting us back to us.  We are energy beings living in a universe of energy, or Light.  We change the subtle energies (Light) within and around us with every thought, action, and emotion. As we go through life, we actually fill and surround ourselves with what we think, feel, and do.  We are unconsciously imprinting the energies of our fears, our frustrations, our anger, and even our illness in our living environments.  They are imprinted in unique energy frequencies that are defined by the thoughts, emotions, etc.  Then as we enter these energies in our day-to-day lives, they are constantly reminding us of the thoughts and emotions that put them there in the first place. We can end up in an energetic rut.
Think of negative thoughts and emotions as negative blessings; they have the opposite effect on the subtle energies within and around us.  And if you live in a home that has been lived in by others before you, especially fairly recently, you may be affected by their "inherited" energies as well.  This is especially true if the previous occupants had significant life issues, such as disease, divorce, severe money problems, or death in the family.
The more intense the imbalances in our lives, the more intense the energy imbalances will be in our homes and offices. We can learn to fill and surround ourselves with the energy of what we desire to bring into our lives rather than what we fear.
The most common source of energy problems in homes is what I call Interference Energy.  I find it in almost every session.  These energies are ultimately brought in by people, with intense negative thoughts and emotions.  These can sometimes cause paranormal activity.  Interference Energy is much more common in homes than you might think.
Some energies need to be removed; others simply need to be changed.  Interference Energy needs to be removed.
What will we do in a session?
You'll give us your name, address, and phone number when you schedule your session.  I'll do all the dowsing before I call you, by saying a blessing to connect all the energies in your home to my home. I'll then be able to explore the energies in my living environment, with dowsing, as though I were in your living environment, including the Human Energy Patterns of all who are energetically connected to your home, even from outside your immediate family.
I will then call you and give you an overview of what I will have found and we'll work together to determine who or what is causing the energy problems in your home.  I also counsel you to help you improve your relationships with others and resolve your key life issues. An important part of my work is good, practical guidance and advice. Depending on what I find, I will most likely guide you through all energy work, helping you understand how to do the clearing work on your own.  I will then close with a final blessing that will improve the energies of your home even more.  I'll then guide you on how to keep your energy environment balanced and beneficial to support you and your family, and you'll be able to do that yourself from then on.
I offer a free follow-up session within 90 days, at your request, if you feel the need.  I'll then check on your energies and if I find a problem, I'll let you know.  Then you can go through the blessing process that I will have provided to clear the energies yourself.  After you do that, I'll confirm whether it has worked for you or not.  That will confirm for you that you can do the clearing work without me.  However, we'll get on the phone if necessary for further coaching.
You'll get more out of this service than you might imagine.  It's about much more than finding and changing energies.  It's about helping you deal with your issues and take charge of your life and keeping your energy environment ideal to support you and your family.
How Much Does a Session Cost?
I charge $300 US for this service for a home or small office/business (no larger than a typical house).  However, if the fee would cause a financial burden for you, we can either reduce the fee or allow payments over time.  I don't want the money to keep you from working with you.  Remember, that you'll get the blessing processes you need to clear the energies yourself.  You may never need to call on me again.  If you do, I will have undoubtedly come up with improved blessing processes to share with you.
It also includes the immediate property that the house or business is on, but if you have larger tracts of land or a business in a large building with many employees that you want me to check, the fee could be higher, as it may take several connections, dowsings, and clearings. I charge significantly less for additional connections required in a session and for additional checks. If you request more than one property to be cleared.  I typically charge less than half the regular fee for additional properties cleared in the same session. It all depends on what we find.
Interference Energy may return to you or to other family members.  Consider Interference Energy to be an energetic virus.  Differently from a physical virus, when someone attracts it, he/she is more prone to attracting it in the future. However, you'll have the spiritual tools to clear this energy again and again if need be, for yourself and for others. You'll also learn methods to keep this energy from returning.
I offer repeat sessions for current clients for $250. I also offer regular sessions, such as monthly for much less.  This is especially good for therapists of various kinds who have clients or patients come into their offices or home offices on a daily basis.
We accept all major credit cards, Zelle, PayPal, and Venmo.  If you prefer, you can send a personal check.  We can customize a plan that suits your needs.
Scheduling a Session
If you're interested in learning more about my remote sessions, click on the following link (in blue) to get access to a more detailed Remote Session Intro that will give you more insight into how I do the sessions and how I understand the energies that are everywhere around and within us, affecting us every minute of every day.
It is important to read this introduction before our session. It will also likely answer most of your questions you might have.
When you're interested in a remote session with me, or if you want to ask questions about it, just give us a call at 1-706-733-0204 or 1-877-369-7464 within the US & Canada if you have to pay for the call. You can click here to email me.
From other countries, call us at 1-706-733-0204 or email.  We'll make an appointment and I'll call you at the appointed time.
You can also request a Remote Spiritual Space Clearing Session online.
Sign up with a $50 deposit.  We'll then get back to you to schedule your session.
Please remember that when you call or email, I don't want to know anything about what's going on in your life until after I do the dowsing and give you my assessment.
If you feel the need to tell us more, tell my wife, Jill, not me.  She knows what is relevant to share with me.
The emails and brief testimonies below will give you an idea of the results my clients get from my work, and from continuing to use the Blessing Processes I provided:
The following email is from a recent client who had attracted what I call "Interference Energy," as had her 18-year-old son.  (See https://dowsers.com/about-my-work/things-that-go-bump-in-the-night-clearing-the-causes-of-paranormal-activity/ to learn about Interference Energy.). Both sons were seeing spirits. Her younger son would not stay asleep in his own bed, waking up, terrified, almost every night about 4:00 am for months, saying he is seeing things and hearing footsteps.   He also could not tolerate being in any room alone, even during the day.  Other paranormal activity had been experienced.  
Below is her email after our clearing session, in which she learned to clear or remove the Interference Energy from herself, her son, and therefore their home.  Then she blessed all the family and their home to support them.
Dear Joey,  
My younger son slept in his bed all night last night!!!  He didn't move a muscle!  He hasn't done that in over a month!  Equally as wonderful, my husband says that after the blessing, the energy felt lighter, and he was a non-believer.  
We also both noticed that our son was better able to tolerate being in the kitchen alone this morning by himself!
Thank you so much for your help!   
CH
2/18/22 
The next day I got an email from her, saying her son woke at 4 am the night before, but he was fine.  He just wanted his mommy to lay in bed with him.  :o)
————-
We really enjoyed working with you!!! Thank you for taking the time to explain everything so clearly.
We are all feeling great today. I had the deepest, most delicious sleep I have had for a long while. Our daughter asked what we had been doing and was very interested in the process. This work and your insights resonate deeply with her and she has been very cheerful and energetic ever since we received your blessing. So far, so good!!!
We will keep in touch in the coming weeks to let you know how we're doing or if we need you to check in on our energies. Thank you for the 90-day follow-up period — it's great to know we have that.
Thank you for the diligence you have devoted to develop your skills and gifts for the benefit of others.
We are excited to watch as you expand awareness of these healing practices! 
Many thanks and all the best in your coming adventures!
Love,
T & B
09/2021
———
Thanks so much for the healing Joey.  It has worked well and I notice I am feeling more positive and at peace generally.  My son, who was also affected, has been a joy since you cleared the interference energy.  He is so much calmer, happier, less stressed and peaceful and thankfully I don't irritate him like I used to …what a difference it has made to our relationship!  ? I am enjoying him so much more now!  In a way we are all a bit more resilient to life's challenges.  I feel much more at peace with my brother's behaviour and with his double crossing me which brings me a lot of peace.  I also enjoy the simple blessing process  and am remembering to say (and enjoying saying)  the blessing  daily for my family.
08/2021
———
Joey,  It's hard to believe the tight knot I was in before our session.
Since then, I have felt more like myself, loving to laugh again.  I feel like an invisible weight has lifted off me; I'm no longer confused, feeling foggy-minded and frustrated.  The biggest thing is no more anger at myself for feeling blocked.
Remember that I felt like I'd lost my mojo and hadn't been able to finish projects?  Well not anymore; now that I'm clear, I've been working on my website.  I continue to sleep so so well at night.
What a blessing you are to the world Joey Korn.  Thank you, Thank you!   
Love,
RW
June 2021
———
Dear Joey and Jill,
Here's an update from Holland! I have been pleasantly surprised the past days, since our Monday session. It has been so much more peaceful than the last months (which were marked by chaos and emotional explosions experienced by all of us). The peaceful, more balanced feeling was a feeling within me, and I noticed that this positively affected my husband and son.
To be honest, I have kind of been eyeing the peacefulness, not quite sure if I can believe that this may actually be a result of the remote space clearing session. And at the same time I catch myself thinking that if it ís a result, than whoohooo! That is amazing and I want this forever!!
———
We've had an incredible weekend and week following our session. 
After our session, my daughter came downstairs and came over and gave me a big hug and said "I'm so excited!" I replied "What are you excited about?" She said "I don't know, just everything." She is very loveable and always wants hugs, but she was even more lovable and joyful. 
My son, who was complaining about everything, has not complained about anything and has been joyful and happy. Smiling more, more sociable, less shy. My heart is so happy to see him happy. 
Regarding my issues with my brother and his wife, I had a lot of anger and resentment towards them and I had a lot of "good reasons" to justify my anger. I hated the tension but couldn't shake it off. After our session, all the anger disappeared! No anger. I'm so relieved! I just could not shake it off before our session! I am confident we will not have anymore issues moving forward because I feel such a relief. I'm not sure how else to explain it. Something just feels different and I feel unconditional love. 
I feel so blessed to have found you and Jill and I am so intrigued with how effective your blessings are. So incredible. 
Thank you!
M.R.
———
Dear Joey,
My daughter is significantly better, thank you so very much!!!!! The work you did is just indescribable. The words just do not do justice to the changes you enabled to happen and I'll be forever grateful!!  I'm absolutely happy to hear good news from you in your follow-up that we're fine.  And yes I feel and  believe that we're all fine.
Your blessings and instructions definitely set up some changes for the better on so many levels.
Thank you again, and God bless you!!!!
Regards,
I. P.
———
On the heels of our session, I have been able to jump right into projects with the level of energy and focus I've been missing for the past 4-5 years.  I have felt very clear, on task, and with my old ability to make sound snap decisions (rather than going around in confused 'uncertain' circles).  Yay!!!!! I'm back!!!!  
Thank you again from the depths of my heart
Peg 🙂
You are amazing! Thanks for moving the Earthbound Spirit on for me.  I slept much, much better last night. I did wake up, but I didn't feel much of the "electric-like charge."  I can say 100% that there was a HUGE improvement after your blessings. I'll see how it goes, but I think I will actually be able to sleep in my bedroom the entire night moving forward!
Thanks so much Joey! I so appreciate your help and am so grateful that it feels so much better in the house now and the cats are much better too!!!!
Kara
———–
Dear Joey,

You performed a remote house clearing on our home about 3 months ago. I cannot thank you enough and wanted to let you know how our lives have changed since I spoke to you.

To begin with, we tried to sell our house in 2011 and again in 2012. Both times, we had what seemed like poltergeist activity in the home. Objects were flying around the home, literally, and lights were coming on and off by themselves. It was awful.

Since your clearing, the activity in my house has stopped. The energy in this house is wonderful. My husband is far more relaxed and our life is moving forward.

We also put our house up for sale again and already have a couple interested! I really believe that this couple, who wants a closing date of July, will love this home and will buy it. Would you please perform you Real Estate blessing as my 90-day follow up, Joey?

Also, my job came through on Vancouver Island; whatever was blocking it was released and we are moving on June 1, 2015. I was offered this job last Thursday, but was I interviewed for this position last Fall. I have been waiting for it to come through, because it is in my field that pays well with full benefits and allows me to look after our family.

You have worked miracles in our life, and I am wholeheartedly grateful. Thank you Joey…and please keep going. You are very gifted.

Angela from Canada
What others are saying about Joey's Remote Spiritual Space Clearing Sessions:
"Joey has cleared 8 properties for me over the years and I am still excited watching how his dowsing method works.

He has cleared rentals and homes for me. The last time he cleared our house for sale – the person who bought it was calling on the other line before he finished!

This time the person who bought our current house made an offer a few days after Joey cleared our house for sale.

Big Recommendation: Selling or buying a house is so stressful – be good to yourself and make an appointment with Joey to clear the energies for a fair and equitable outcome.

Your realtor will thank you!" ~Stephanie from Delaware

"I feel so relaxed after the session today and not exhausted which used to be the norm for me.  Thank you for helping me to feel good about myself again."     ~ Stephanie

"After many years of searching for help, Joey Korn was able to Bless the darkness away and I am free to rebuild my life without these forces interfering.  I am very grateful to Joey."     ~ Thank you, Dr. Kim

"I just wanted to let you know that the energies in my home are still awesome!  In fact, I am finding that they are multiplying.  I use the Simple Blessing Process every day for myself and loved ones.

Also, my well water is good again too.  The smell of sulfur is gone.  Things in my life have been fantastic since your work with me.

I found a new lady friend and things are going perfectly with us.  My broken heart has healed.

I feel alive again.  Thanks again for all you have done for me.  God bless you, my friend."     ~ Love, Rainer

"The first thing Peter said after we hung up from our session with you was, that was refreshing!"     ~Thanks again, Diane

"I feel really great…and I just want to be in my home so much!  I had guests all weekend and we had a ball.  I am painting my office this evening and it will be more beautiful after I get the lighting up.  It has been so fun to transform my space into my woman cave.  I am excited to incorporate the blessing process. Thanks again for your gift!" ~ Julie

"I can't believe the difference in my daughter's attitude towards me after the first day of the energy cleaning!  She's a whole new person…even the facial expression is so relaxed now.  My thanks can never reveal the gratitude that I have.  Thank you." ~ May God bless you, Rita