FALL RETREAT With Joey & Jill Korn 
Join Jill and me at our next Gourmet Dowsing Retreat in our home near Augusta, Georgia, from November 5th-9th.  You'll stay with us in our home, you'll eat three delicious home-cooked meals each day, and it's the best way to learn more work.  To learn more by clicking here.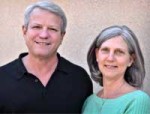 Spirit of Alaska Holistic Cruise 
Also, you can join us on the Spirit of Alaska Wholistic Cruise from June 12-19, 2015. Learn more by clicking here.

Southern Dowsing Conference
I will be participating in the upcoming Southern Dowsing Conference in Hendersonville, North Carolina from March 19-22, 2015. This is the first conference sponsored by the Appalachian Dowsers in years.  Don't miss it!
Learn more by clicking here.