Interviews with Joey Korn & Sample Chapter of Joey's New book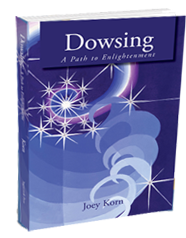 On this page you'll find an audio interview from over ten years ago that will still give you an excellent foundation of my work today, though it has evolved greatly.  Listen to the interview below, at the bottom of the page.
You'll also find a link to a more recent interview, which will tie in beautifully with the new revised edition of my book.  You can listen to both interviews streaming, or download them.  You even have access to my Blessing Handouts that I share with workshop attendees and remote clients.
You'll also be able to read and print a sample chapter of the revised edition of my book, Dowsing: A Path to Enlightenment, that will begin shipping mid-January, but you can pre-order now.  We finally have a firm shipping estimate to us of January 11.  My new book will  have five new chapters, updating it to my current understandings.  The sample chapter will give you new understandings and techniques that you can use right now! It's called "Blessing Electrical Fields to Help Us in Life". Many people fear EMFs, I don't.  I love them!  Click on the previous link and learn why.
I met Haines Ely at the Acres USA Subtle Energy Conference in 1999, and he asked me to be on his "Earth Mysteries Show" on KVMR-FM in Nevada City, CA.  This interview was done just weeks before I made my "Kabbalah Connection to Dowsing." It was one of those days when everything just clicked.  It came out so good that I immediately got permission to distribute it on audio tapes and CDs.  Even though my work has evolved much since this interview was done, it still serves as a wonderful overview of my work, leading to my Kabbalah connection.
You can find players for both interviews below.  For the new interview, you can play it or downloaded for later listening.

Interview of Joey Korn by Haines Ely
On his Earth Mystery Show
KVRM-FM
Nevada City, CA
This more recent interview, called "Change Your Energies and Change Your Life,"  was done in October 2012 during the first Dowsing World Summit.