Spiritual Space Clearing from the Inside Out: Joey Korn's Workshop on Four-DVD Set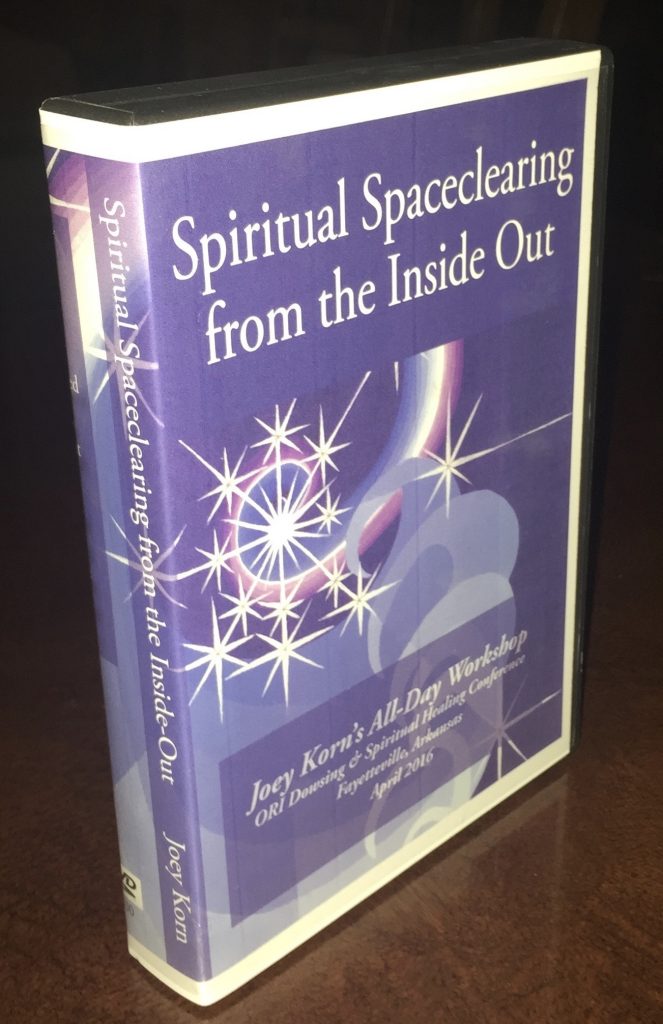 I now have an all-day workshop available on DVDs.  Last year, I did a workshop for Ozark Research Institute in Fayetteville, Arkansas.  Gladys McCoy had it videoed for me, and I am very pleased with the results.  The set contains four DVDs, each about 1 hr and 15-20 minutes long, for a total of over five hours of training.  It's unedited, so you'll see and hear everything that the people who attended saw and heard.  You'll also get to do the dowsing and energy-work exercises along with them.    There is a benefit in getting this on DVD rather than attending in person; you'll get to pause it whenever you need to, return to it when you can, and watch all or part of it again and again, to really "get" what I'm sharing.
In this four-DVD presentation of an all-day workshop, Joey Korn teaches much of what he shares in the revised edition of his book,
Dowsing: A Path to Enlightenment, and goes beyond.  He collapses a several-day workshop into one day, so he includes much more than he ever has before in an one-day workshop.  You'll not only learn to dowse, but you'll also learn Joey's simple, yet amazing techniques to transform the energies within and around you with the Blessing Process.  Joey will help you realize your amazing connection to the energies of Creation that are everywhere around and within you, behind the scenes life.
You will learn:
The basics of dowsing, using Joey's unique methods,
How to differentiate between various detrimental energies that are commonly in homes and offices,
To use the Blessing Process to remove some detrimental energies and transmute others into beneficial energies, including EMFs,
To use Joey's Simple Blessing Process to balance your Human Energy Pattern and the patterns of others,
About Joey's Kabbalah Connection to Dowsing,
The primary causes of paranormal experiences in homes, and, in most cases, how to remove them,
Special blessings to clear your family's personal energies as well as all the energies in your home,
And much more.
You'll also receive access to a page in this Web site with all the handouts that Joey wants his students and clients to have, including various blessings for several different purposes.
Spiritual Space Clearing from the Inside Out: Workshop on Four DVDs
Only $100     
Including Shipping within the US
We will pay for Media Mail shipping.  We can send through Priority Mail for only $4.50.  We can send to Canada for only $6, and to most other countries for only $12.  You'll see shipping options when you check out.