Metal Pendulums – Includes Shipping!
The prices below include shipping costs to US.



Low Inventory

Our Pendulum Supplier is going out of business.  We will be running low on inventory until we get a new supplier.
Shipping rates have changed, especially for international shipping of small packages.  It is not practical to order one pendulum for shipping outside the U.S. unless it is part of a larger order.
Be sure to scroll down to see everything.  
Maurey Style Pendulum

The Maurey pendulum is no longer availble at this time.  We do Bearing Balanced Maury's below.

$25

BRAND NEW! Bearing Balanced Maurey with Witness Chamber

This a nice improvement on the classic Maurey Pendulum Design.

This pendulum is also not available at this time.  Check out the Bearing-Balanced Classic Teardrop Below.

$33
Classic Teardrop with Beaded Chain & Hematite Bead

$20
Multi-Metal Bullet Pendulum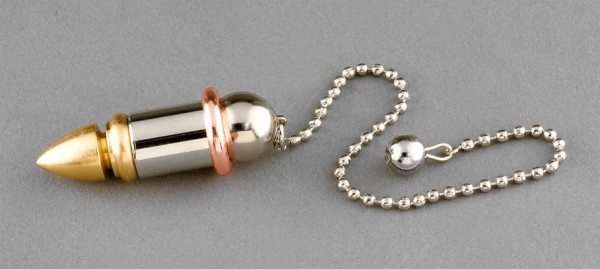 with Sample or Witness Chamber
$22    
---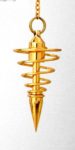 Vortex Pendulums Gold, or Silver Plated
$16.00    Available Wholesale
---

Egyptian Karnak Pendulums in Silver or Gold Plating
Available Wholesale
$15
---
Letter to Robin: A Mini-Course in Pendulum Dowsing
Pendulum Dowsing Series of Booklets
This the best series of booklets I've found on pendulum dowsing.
Only $9.00, including shipping within the US.
You can also add Volumes 2, 3, and 4 for $6 each after you add to your order.
We may have to contact you about slightly higher International shipping cost if you order more volumes. 
Volume 1 is also available in Spanish. Just ask when you order in Instructions or Comments
$9.00
Click here or on photo below to see our beautiful Crystal & Gemstone Pendulums.