Joey & Jill's Gourmet Dowsing Retreats
The best way to learn my work is to immerse yourself in it at one of our retreats. Jill and I hold our retreats in our home, which is also our retreat center.  We also specialize in having great meals for you.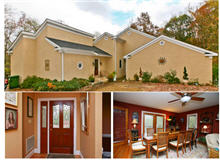 We have 6 bedrooms, 4 1/2 baths and 2 full kitchens.
We're on three acres of land with a one-acre fish pond.
You'll love the accommodations!
---
About Our Retreats
Why do you call them Gourmet Dowsing Retreats?  What is Gourmet Dowsing?  We often get those questions.
We call them Gourmet Dowsing Retreats because you will not only learn amazing things about how to use dowsing combined with the blessing process, you'll also feast on fifteen delicious meals.
Most workshops, retreats and workshops that include meals offer mediocre food at best, usually cafeteria style.  We don't.  I love to cook and I love to eat, so our events feature delicious meals catered to the likes of each group.
Now, what will you learn?  In my regular weekend workshops, I only have time to expose you to the exciting and powerful techniques I've developed for dowsing, healing, and energy work.
You learn to use them, but it's then up to you to hone your skills. At our retreats, we'll have lots of time to sharpen our skills, learn new techniques, nurture our souls, relax, & just have fun.
You can apply this work to any aspect of your life and take your own dowsing, healing, and energy work to much deeper levels.
We'll also explore and work with Earth Energy leys, power spots, and Hartmann & Curry Grid Lines.  You'll learn to detect and work with the Universal Matrix to improve your life and the lives of others.   Includes lodging and all meals, which home-cooked and delicious, tailored to the likes of each group.
We can't even express what you'll learn and experience at our retreats. An absolutely life-changing experience! The best I can convey the magic of what you'll experience is to call it Divine Wizardry 101.
Deposits are fully refundable up to 30 days before the Retreat begins.  After that, you will have a credit with us that you can apply towards a future retreat, a Remote Space Clearing session, products, etc.
Call us for directions if you're planning to drive.
We will pick you up and return you to the Augusta Airport (AGS),
which is 20 minutes away.
You can also fly into Columbia, SC (CAE), 1 1/2 hours away, or Atlanta (ATL) 2 1/2 hours away, but you'd have to rent a car.

We can help you decide on your best travel arrangements.
If for some reason you need to come a day early or stay another day, there is a $100 charge, which will include lodging but not dinner, and no teaching. 

Call us toll-free at 1-877-369-7464 or email us by clicking here.
If you're outside of the US & Canada, call us at 1-706-733-0204.  We accept Visa, MasterCard, American Express, Discover, and PayPal.