How You Will Benefit from Attending Joey Korn's Lectures and Workshops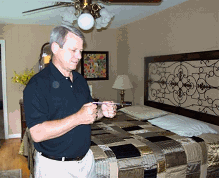 I am often asked how people would benefit from attending a lecture, workshop or retreat with me.  I have tried to answer this question in print and in a series of YouTube videos, but that is inadequate.  You just have to experience my workshop to really understand.
This picture is of me dowsing around a Bed.  Everyone in the lecture and workshop will learn the importance of working with the energies around beds.
My work is the closest thing I've ever found to real magic.  I will teach you a step-by-step process of what you might call "Divine Wizardry." My lecture is an introduction to and preparation for that.  This system is a synthesis of nearly forty years of passionate spiritual seeking–and finding, through Inner Guidance.  You will learn to detect and experience a world of energies that is within and around you, energies that connect us with each other, with everything around us, and ultimately everything in existence, but very few people have more than an suspicion that these energies even exist.  This universe of subtle energy is there to support you, every minute of your life.
You will experience how those energies affect us, and more importantly, how we constantly affect the energies of Life itself, again, within and around us.  You will learn how to take charge of the process and create unique energy environments within and around you and your loved ones, to help bring what you most desire into your lives.
You will learn to accomplish this quite simply–with your intent–through what I call "the blessing process."  And you will learn to use physical tools  and muscle testing to validate, in tangible ways, that these energy changes are instantly taking place.  You will learn how to find energies with a pair of L-rods!  You will also change energies yourself in the workshop, and you will immediately experience the beneficial effect of that energy change.  Again, this work is real magic!
Ultimately, you'll gain tools, techniques, and understandings that you can apply immediately into any and every aspect of your life, to improve your life and the lives of those you care about.  My lectures will give you a taste of everything I teach.
In a workshop or retreat, you'll have much more experience and, more importantly, gain the understandings.  I suggest attending the lecture, if available at the time, and workshop, and even a retreat when possible, as repetition is very helpful in my work. In fact, repeating a workshop or retreat really helps.   It's like watching a movie, like "The Sixth Sense", that you don't really get until near the end of the movie.  Then when you watch it the second time, you have a whole new perspective and understanding. It's just like that with my work. You're participating with a new set if eyes and ears, and you'll get more experience.
So for those of you who are already registered to attend an event with me, you can look forward to the experience that will truly change your life.  If you're just thinking about it, I hope you decide to join us.  You'll always be glad you did.
With much love,
Joey Korn
Click here to return to the Workshops & Retreats page.

Comments from Former Participants:
"Amazing, important information with simple and practical application and usage."
"This was way beyond my expectations. Excellent and very useful."
"A beautiful, pure, soulful approach. Not just teaching but sharing his Light."
"Attending Joey's workshop absolutely changed my life!"