Dowsing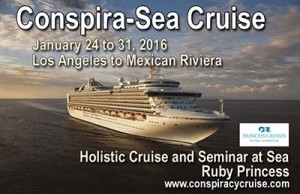 Sail the Magnificent Mexican Riviera with Us and Awaken to the Truth that Sets Us Free
During our 7-Night Holistic "Conspira-Sea Cruise" from January 24 to 31, 2016
From Los Angeles to the Pacific Coast of Mexico.
Sign Up Listing JOEY KORN as your referrer and you'll get a free Remote Spiritual Housecleaning Session with Joey, worth $200.
Ports of Call:  Our 7-night cruise begins in Los Angeles and sails to the beautiful Pacific coast of Mexico.… Read more here...