Spiritual Books Mentioned in Dowsing: A Path to Enlightenment
All the books below are mentioned or recommended in my book, Dowsing: A Path to Enlightenment.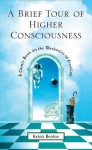 A Brief Tour of higher Consciousness: A Cosmic Book on the Mechanics of Creation
by Ithzhak Bentov
This is a wonderfully easy-to-understand book about metaphysics, physics, and consciousness. Explains some of the most difficult concepts of physics and heightened consciousness in ways that are easily understood. Presents a model for the interaction of the universe and human thought that has profound implications for our future.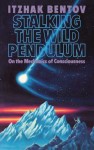 Stalking the Wild Pendulum: On the Mechanics of Consciousness
by Itzhach Bentov
In his exciting and original view of the universe, Itzhak Bentov has provided a new perspective on human consciousness and its limitless possibilities. Widely known and loved for his delightful humor and imagination, Bentov explains the familiar world of phenomena with perceptions that are as lucid as they are thrilling. He gives us a provocative picture of ourselves in an expanded, conscious, holistic universe.
The Man Who Talks with the Flowers: The Life Story of George Washington Carver
by Glenn Clark (who also wrote The Man Who Tapped the Secrets of the Universe)
This remarkable life story tells the true spiritual side of George Washington Carver, including why and how he discovered how to make so many uses of the peanut.  This is the incredible story that should be taught in schools.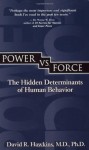 Power vs. Force: The Hidden Determinants of Human Behaviour
by David R. Hawkins, M.D. Ph.D.
 David Hawkins details how anyone may resolve the most crucial of all human dilemmas: how to instantly determine the truth or  falsehood of any statement or supposed fact. Dr. Hawkins, who worked as a "healing psychiatrist" during his long and distinguished career, uses theoretical concepts from particle physics, nonlinear dynamics, and chaos theory to support his study of human behavior. This is a fascinating work that will intrigue readers from all walks of life!
Sefer Yetzirah:
The Book of Creation
by Aryeh Kaplan
Includes three versions of one of the most ancient and important kabbalisitic texts, translated by one of the world's foremost scholars of Torah & Kabbalah. This book reveals actual meditation and magical practices. It is said that they ancient Kabbalists gave life to the Golem (the original Frankenstein) with through the knowledge in this book. It is referred to often in The God Code (below). My favorite author on Kabbalah. Complex.


The God Code
by Gregg Braden
Gregg Braden has found God's "signature" in every cell in our bodies. Gregg hopes to unite mankind with this remarkable finding, that God's has left a message in our DNA. The message tells us, "God Eternal in Our Bodies." I love this book and this concept. He also ties in the Sefer Yetzirah (above).The Divine Name: Sounds of the God Code by Gregg Braden and Jonathan Goldman (CD)
Now you can experience the power, mystery, and healing of The Divine Name, re-created through the sounds that unite, rather than the letters that divide! The power of healing and peace through the Divine Name is available once again….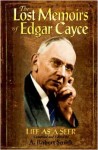 The Lost Memoirs of Edgar Cayce: Life as a Seer
by Norman A. Smith
Only recently discovered, this new memoir delivers Cayce's important message to the world at crucial time: the dawn of the twenty-first century. In this personal, moving story, readers learn how Cayce felt about his amazing powers; the angelic presence that told him he would become a healer to millions; his extraordinary ability as a child to learn his school lessons simply by sleeping on his books.
We're also given a "behind the scenes" glimpse at his many psychic readings. Throughout his life, Cayce was the voice people turned to for advice on issues as diverse as health and world issues. Now, Cayce speaks once more on these topics and delivers his ultimate message to humanity for the first time. My Life as a Seer brings to life the emotional frustrations, motivations, fears, and visions of the century's premier spiritualist.
$8.99
Add to Cart
Tree of Life Chart-Laminated Plastic 
This beautiful 8 1/2 X 11 inch laminated chart gives you a brief description of Kabbalah and the Tree of Life. It also ties in Western Hermetic tarot symbolism, the Chakra system in Eastern Mysticism, the Lightning Flash, the unspeakable Name of God. The price includes shipping within the US Canada. We'll email you with additional cost for elsewhere.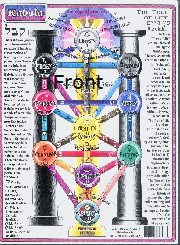 $10
Includes Shipping
Within US & Canada
Add to Cart