Crystal and Stone Pendulums
We have many beautiful Crystal & Stone Pendulums.  Scroll down to see them all.
FREE SHIPPING WITHIN THE U.S.!
Low Inventory

Our Pendulum Supplier is going out of business.  We will be running low on inventory until we get a new supplier.
Shipping rates have gone up again, especially for international shipping of small packages.  It is not practical to order a pendulum for shipping outside the U.S. unless it is part of a larger order
Brand New!   Pendant Pendulums
Wear as a beautiful necklace or use a a pendulum.
Bearing-Balanced Amethyst with Witness Chamber


$33

View of Pendulum with Open Witness Chamber

Some dowsers put a sample of what they're looking for or working with in the chamber.

Blue Turquoise Dome Pendulum 
(does not have a witness chamber)

$30

Bearing Balanced Labradorite Chamber Pendulum
$33

Uncut Himalayan Crystal Point  with Chamber            

$30

Metal Pendulums


Letter to Robin
A Mini-Course in Pendulum Dowsing Volume 1
Available in Five Volumes
Only $9.00, including shipping within the U.S. 
Now Available in four volumes.  Add more volumes after adding Volume 1 to the cart.  Each additional volume will be $6.  We may have to contact you about additional shipping cost for multiple volumes.
"This is the best series of booklets I've found on pendulum dowsing. "
Available in Spanish.  Request in Special Instructions during check-out.
   $9.00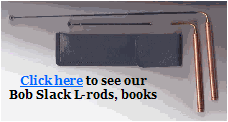 Remember that shipping is included in the price of our pendulums for anywhere in the US.
International orders are $3 more for shipping.
If you prefer, call us toll free from the US or Canada to place an order at
1-877-DOWSING (369-7464).
From elsewhere, call 1-706-733-0204
Or email us by clicking here.